Vitality Lip Flush in Je Ne Sais Quoi $20.00
Description "
Vitality Lip Flush Anti-Aging Lipstick Stain takes the place of your lipstick, anti-aging conditioning lip balm, ultra-hydrating lip gloss, and your lip stain!"
Best idea for a product ever, right?
It feels great on! Similar to the feeling of a lipstick, but with the moisturization of a lip balm. It's not as glossy as a lip gloss, but it has a little shine.
As for the lip stain aspect, the initial finish will wear off, but even so, my lips are left with a stain.
Dual Airbrush Concealer/Foundation Brush (not sold individually)
As the name would imply this brush can be used for concealer/foundation, but I've also found some other fabulous uses for it!
The smaller end can be used to blend eyeshadows, highlight, and to contour smaller areas of the face such as the sides of the nose!
The larger end is great for contouring, applying bronzer, and blending out the edges of blush!
As with all of It Cosmetics' brushes it's super soft, and cruelty-free (non-animal hair bristles!) I've had no issues with shedding.
Jumbo Heavenly Mega Luxe Powder Brush $58.00
This brush is HUGE! (As you may have guessed.)
It's main purpose is a powder brush, but it also works great for bronzing, and toning down/blending out blush!
It feels amazing on the skin.. it's like running a teddy bear across your face (seriously!)
All three of these products will be part of a TSV (Today's Special Value) Set on QVC on July 27th!
This set will also include
Supersize Bye Bye Under Eye Concealer, and the
Vitality Face Disc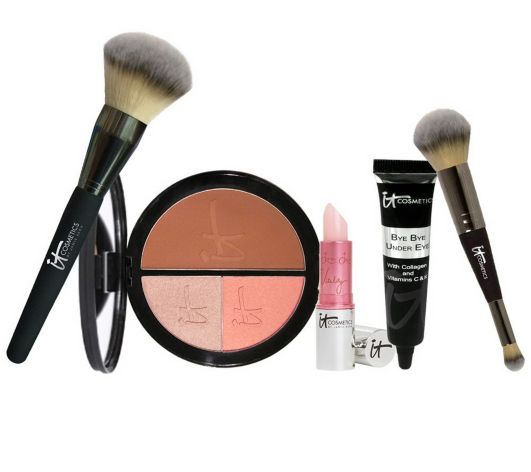 The set will retail for $59.94 (just $1.94 more than the Powder Brush individually!)
I received the full set by It Cosmetics to review on my blog, however, I chose to only review three of the five items.
I don't comfortable using products containing collagen. The two other products contain marine collagen which can or cannot be animal

derived.

(I wasn't able to get in touch with a chemist to ask.)
You can order the entire set early
here
.